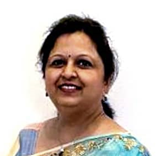 Prof. Monika Prakash
Message of Nodal Officer
IITTM Nellore is the doorway to South India. The FAMILY at IITTM Nellore, students, faculty and staff welcome you to this beautiful campus of dreams and prospects. Established in 2011, the centre has grown multi-fold in tourism education, training and research.
Our academic programs MBA (Tourism and Travel Management) and BBA (Tourism and Travel) are carefully crafted for the industry and provide ample scope for students to realize their dream of making a career in travel industry. The programs are designed to encourage students to have enough practical exposure to the travel industry and helps them in personality development through co-curricular activities, study tours, games and sports, industry-institute interface and various other training programs.
The institute has proven to be an active partner in community outreach and capacity building a number of national and international assignments and projects. We take pride in nurturing our students to be change makers and many of them have already started contributing their part.
Our campus has all the required facilities with the state-of-the-art infrastructure and facilitate students in physical, mental and professional growth.
All those interested in the field of travel and tourism and passionate about traveling are cordially invited to our centre to carve out a stand-alone career and further explore the world of joy of leaning.
Best WISHES!